Born on April 16, 1924 in Lahore, present-day Pakistan, where he was a post-graduate student at the Government College, Lahore. India's partition obliged him to migrate to Delhi where he volunteered to work in a refugee camp, all the while preparing for the post-graduate exams (Technical Chemistry) of the Delhi Polytechnic. He is an outstanding artist and internationally known author of several books.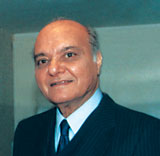 As a young student activist, he was imprisoned during Mahatma Gandhi's non-violent "Quit India" movement against British colonial rule. He joined the Indian Foreign Service in 1953 and served as Ambassador in Asia, South America, Africa and Europe before joining UNESCO in 1982. In recognition of his life-long devotion to the cause of communal harmony and peace, a biannual "UNESCO-Madanjeet Singh Prize for the Promotion of Tolerance and Non-Violence" was unanimously established by UNESCO Executive Board in 1995.


An international jury, chaired by Nobel Prize laureate Archbishop Desmond Tutu, awarded the 1998 UNESCO-Madanjeet Singh Prize jointly to two non-governmental organizations - the Shanti Sena (Peace Brigade) in India, volunteers dedicated to religious tolerance and non-violence and the Joint Action Committee for People's Rights (JAC) in Pakistan, a coalition of some 30 women's organizations working to protect human rights, encourage mutual understanding and friendship between India and Pakistan and fight religious intolerance.
Madanjeet Singh founded South Asia Foundation in 2000, as he ardently believes that the survival and future of South Asia depends entirely on regional cooperation. His devotion to this cause is manifested by the fact that he has committed to SAF his considerable wealth generated by the sale of stocks of Art Technology Group (ATG), an American software company created by his son Jeet Singh, a trustee of South Asia Foundation.

Email: saf@safmail.org